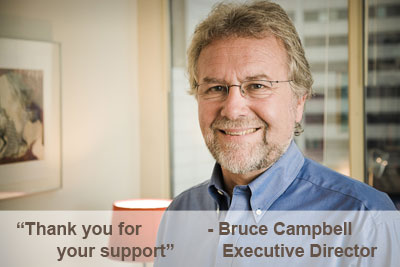 The CCPA is Canada's leading progressive policy research institute. Supporters provide core funding for our work. Whether you choose to contribute monthly or with a single gift, you'll help us take on new research and deliver information and ideas into the hands of thousands of Canadians. 
With your support, we can continue to produce high quality research — and make sure it gets into the hands of citizens, progressive organizations, policy makers, journalists and others. CCPA relies on supporters like you — your contribution makes our core research and public engagement work possible.
You can make a one-time gift or set up a monthly contribution charged to your credit card using this secure online form. If you prefer to make a monthly contribution via an automatic deduction from your chequing account, please contact Anskia Gingras at 613-563-1341 x309, or send her an email: ansky [at] policyalternatives.ca    
The CCPA has charitable status and all donations are tax deductible. You will receive a tax receipt for 100% of your donation (for donations of $15 and up).