We are incredibly honoured to announce that Senator Murray Sinclair will address our 2017 Annual Gala as keynote speaker, on Thursday, October 19 in Vancouver. Tickets are now on sale. Will you join us?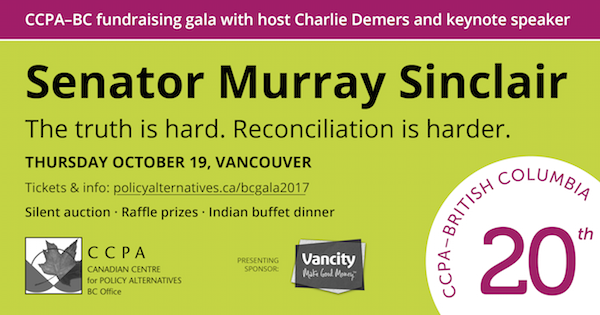 Senator Sinclair has served as chair of the Truth and Reconciliation Commission (TRC), was the first Indigenous judge appointed in Manitoba, and is a current member of the Canadian Senate. His talk—The truth is hard. Reconciliation is harder—comes at an opportune time for our province, with a new BC government that has committed to implementing the TRC recommendations and the UN Declaration on the Rights of Indigenous Peoples.
And as the CCPA-BC celebrates 20 years of advancing progressive solutions for BC, we are also asking how we can work harder alongside and in support of Indigenous allies.
I hope you'll come out this fall, be inspired by Senator Sinclair's talk, and meet the CCPA-BC team. There will be a delicious Indian buffet (always a crowd-pleaser), a silent auction with fabulous prizes, and comedic emceeing by Charles Demers (of radio, literary, and theatrical fame). You'll not only have a great night; you'll be supporting the important work of the CCPA's BC Office.
Click here to learn more and purchase your tickets online, then get ready for a wonderful evening.