Like Canada, Norway has considerable petro-wealth. However, unlike Canada, the Norwegian government has a hand in the development, allocation and sharing of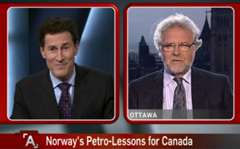 this valuable resource. CCPA's Executive Director, Bruce Campbell recently appeared on TVO's The Agenda with Steve Paiken to talk about what Canada can learn from Norway's management of oil wealth.
Watch the full interview here, and read more in Bruce's report: The Petro-Path Not Taken: Comparing Norway with Canada and Alberta's Management of Petroleum Wealth.