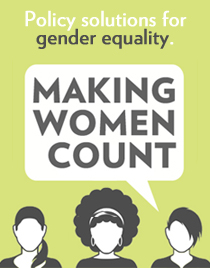 We are proud to introduce CCPA's exciting new initiative: Making Women Count—research that makes a difference in the lives of women in Canada. Headed by CCPA Research Associate, Kate McInturff, this project will help us to produce essential research and analysis of the barriers to achieving gender equality and the public policy solutions that will create a more inclusive Canada.
Already, Making Women Count is putting women's well-being back in the spotlight. Our report on Canada's gender gap received national attention. CCPA produced one of the only analyses of the impact of the federal budget on women. Our most recent study, on the high cost of violence against women in Canada, contributes to the growing support for a national policy to end violence against women. And we've only just begun.
Click here to read more about the work we're doing, and find out how you can help support the project.