Join us on Thursday, November 10, 2011 for (In)Equality Matters: Social Justice and the Economy!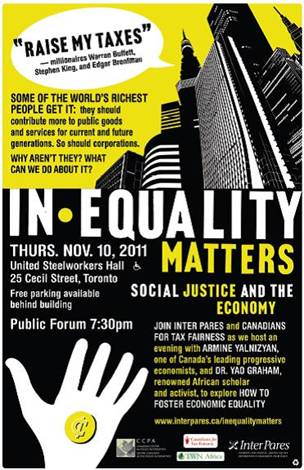 7:30pm
United Steelworkers Hall
25 Cecil St. (near College and Spadina), Toronto
Free (donations welcome)
Join us in person or live on the web!
Incensed by skyrocketing corporate profits and plummeting average incomes? Think wealthy Canadians and corporations should contribute more to public goods and services? Why aren't they? What can we do about it?
Join Inter Pares and Canadians for Tax Fairness for an evening of discussion on how to foster economic equality.
Jean Symes from Inter Pares, Armine Yalnizyan, one of Canada's leading progressive economists, and Dr. Yao Graham, renowned African activist and coordinator of Third World Network-Africa, will speak about examples of deepening economic inequality they see in communities worldwide, and what we can do about it.
Free parking available behind building.
This space is wheelchair-accessible.
For more about the 4-city tour: www.interpares.ca/inequalitymatters
Questions? 1-866-563-4801 (toll-free) or [email protected].
Sponsoring organizations
Inter Pares, which means "among equals" in Latin, is a national charitable organization dedicated to promoting international social justice. In Canada and overseas, we support people's struggles for peace, justice, and equality; their efforts to challenge structural obstacles for change; and their alternative development approaches. www.interpares.ca
Third World Network-Africa is a pan-African research and advocacy organization based in Accra Ghana. TWN-Africa's work covers the areas of economic policy: international trade, investment and the role of the IFIs on African development, gender and economic policy and Africa's extractive sector (mainly mining). Since its foundation in 1994 TWN-Africa has worked to support the self-organizing of marginalized groups and the coming together of African organizations and their allies around the world in activism around these issues. www.twnafrica.org
Canadians for Tax Fairness works to build a national campaign to promote fair taxation. We support the development and implementation of a tax system, based on ability to pay, to fund the comprehensive, high-quality network of public services and programs required to meet our social, economic and environmental needs in the 21st century. Canadians for Tax Fairness will work together with other groups and individuals who share our goals. www.taxfairness.ca
The Canadian Centre for Policy Alternatives is an independent, non-partisan research institute concerned with issues of social, economic and environmental justice. Founded in 1980, the CCPA is one of Canada's leading progressive voices in public policy debates. www.policyalternatives.ca
Thursday, November 10, 2011 - 10:30pm

to

Friday, November 11, 2011 - 1:00am