Great fun was had on November 6th when Mary Walsh came to town to perform at Pantages Theatre for CCPA-Manitoba. Mary tackled the issues we care about and made us laugh, while Winnipeg's own award-winning band - Nathan - gave a spectacular performance.  They were fabulous and we are so glad that despite their success beyond the Canadian border they still want to give their talents to help organizations such as ours.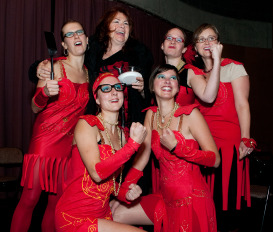 In this picture Mary was delighted to meet up with a few local Marg Delahuntys - thanks to Molly McCracken, Noelle DePape, Jess Irvine, Jackie Hogue and Kate Sjoberg for being such great sports!
The board and staff of CCPA-Manitoba want to extend a big thank you to everyone who helped make this a great fundraiser for us.