Prominent Canadian women have a message for Prime Minister Stephen Harper: they refuse to be silenced.
The women – feminists, activists, academics, economists, and former politicians – responded to last spring's advice from Senator Nancy Ruth to keep quiet on women's issues by writing essays for a new book, Speaking Truth to Power [2], by the Canadian Centre for Policy Alternatives (CCPA).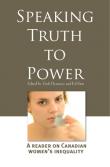 The book features essays by: Pat Armstrong, Sheila Copps, Eve-Lyne Couturier, Shelagh Day, Jane Doe, Martha Friendly, Josephine Grey, Michele Landsberg, Heather Mallick, Alexa McDonough, Chi Nguyen, Lana Payne, Shannon Phillips, Elizabeth Quinlan, Qianru She, Judy Rebick, Heather-jane Robertson, Laurel Rothman, Paulette Senior, Priscilla Settee, Uzma Shakir, Elizabeth Sheehy, Marit Stiles, Armine Yalnizyan, and Senator Nancy Ruth.
Read the news release about the book here [3].
Read the book's introduction and buy the book here [2].