How public procurement can spur economic development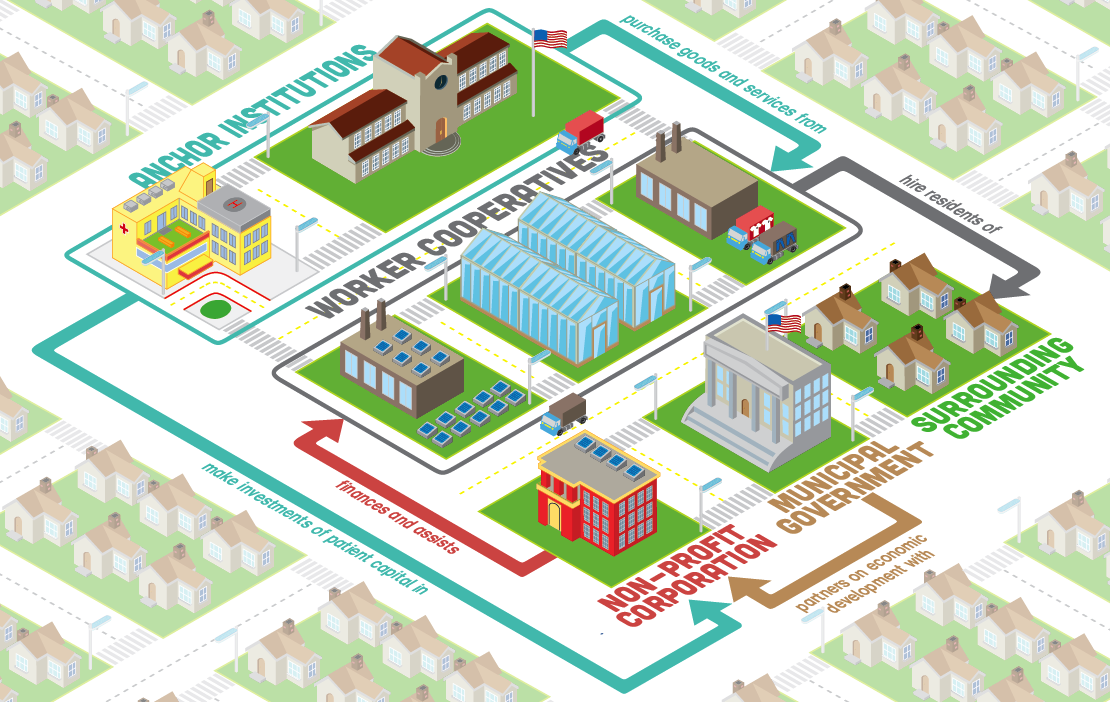 Cleveland Model graphic taken from community-wealth.org.
A policy agenda of inclusive growth has emerged from the failure of contemporary policy-makers to reconcile economic growth and social inclusion. Yet, the implications for municipal and urban policy-makers remain unclear. City leaders must meet the rising expectations of urbanized Canadians while facing a dearth of policy instruments at their disposal. Traditional "tax and spend" redistribution in an era of increased capital mobility is difficult; the municipal reliance on blunt revenue tools such as property taxes, user fees and provincial transfers only make it more so.
Yet to be a policy-maker at any level and not confront the glaring problems of inequality, growing precarity, and financial and social distress is to be politically negligent. In order to tackle the big policy issues of the day, the urban policy-maker needs to take an innovative approach that does not require significant new resources or new legislative powers.
Community wealth-building policies through public procurement may offer one simple solution. The English city of Preston and the U.S. city of Cleveland have made strides to transform this simple process of logistics into a socially conscious local industrial policy that activates and redirects economic flows toward underinvested communities, multiplying in the process the impact of already existing expenditures.
Drivers and catalysts
Both Cleveland, planted firmly in the U.S. Midwest, and Preston, nestled away in the United Kingdom's North West, are rust belt cities. Their acute socioeconomic challenges are felt within the confines of deindustrialization, government austerity, declining revenue, limited private investment, and in the American case especially, pernicious racial inequality.
From 1950 to 2015, Cleveland shrunk by 58%. Today the city boasts some of the worst poverty in the country, with rates 20% higher than the national average of 14%. Similarly, Preston is in the bottom 20th percentile as the 45th most deprived local authority in the 2010 U.K. Indices of Deprivation. Some Preston neighbourhoods record a life expectancy of 66 while in others it is 82. One in three children in the city are poor.  
The story of the "Cleveland Model" begins in 2005 when the Cleveland Foundation's new CEO began to conceive of a "geography of collaboration" between the "almost one-square mile of world class educational, cultural, and health institutions" in University Circle and the poorer neighbourhoods of the Greater University Circle. During the same time, a planned $3 billion in capital projects acted as a catalyst to convene the leading institutions of University Circle and address Cleveland's reputational decline.
Preston's history with local wealth-building starts in 2011, when a decades-long plan for a £700m ($1.15 billion) redevelopment project of the city centre fell through. The collapse of the megaproject left the city council without direction, and the austerity of the 2010–15 U.K. coalition government left them with little fiscal maneuverability (local authorities lost 27% of their spending power on average). This vacuum allowed Matthew Brown, a long-time outsider on city council, space to advocate for unorthodox policy deviations  
Anchor institutions and key actors
Social procurement begins with the concept of anchor institutions. These are organizations of considerable scale (in terms of employment, spending or asset base) defined by their significant attachment to the communities they are rooted in. Anchor institutions are exempt from the basic assumptions of capital mobility and profit maximization. Instead they are fixed to specific locations and places as well as operating in a model not fixated on profit maximization.
In our Cleveland case, the Cleveland Foundation played the central role of co-ordinating the Greater University Circle Initiative (GUCI), which was anchored by the Cleveland Clinic, the University Hospital, the Case Western Reserve University, the City of Cleveland, the Democracy Collaborative, and other regional stakeholders. In Preston, city council with the Centre for Local Economic Strategies convened the anchor institutions. By August 2013, work had begun to re-create the Cleveland Model, anchored by Preston City Council, the regional county council, the Lancashire police force, Preston's largest social housing association, two colleges, and later the Lancashire Pension Fund.
New ideas in Cleveland
In Cleveland, work on a host of social procurement projects was formalized by an Economic Inclusion Management Committee to achieve four goals: Buy Local, Hire Local, Live Local, and Connect. Local expenditure was promoted through joint procurement by anchor institutions, and by working with partners to re-source formally outsourced goods and services.
One flagship program involved setting up a worker co-operative network, the Evergreen Cooperatives, to capture a portion of the expected $3 billion in procurement spending. Cleveland firms were encouraged to adopt voluntary community benefit agreements with social objectives such as hiring local residents, and training programs were instituted to grow the skills base of local residents both for labour market entry and upskilling.
Initially, municipal policy-makers acted as early adopters, aiding the project by lending it legitimacy and credibility as a partner. But the City of Cleveland soon joined as an anchor, leveraging both its public funds (often to provide pilot funding) and its planning functions for zoning. The lesson from this experience is the need for buy-in at a senior level from a variety of core anchor institutions convened by a trusted and well-resourced organization. This commitment should spread out to the technical staff who begin to see social value not as a charitable effort but part of the core business function.
From ink to action in Preston
Preston councillor Matthew Brown set out explicitly to recreate a local version of the Cleveland Model. Preston city council became accredited as a Living Wage Employer, identified key anchor institutions and worked to embed, within local executives, ideas of localism, community and social procurement. In short order, a common statement was drafted that committed these institutions to harnessing their procurement to greater social value and, crucially, to share their data.
Using this data, the Centre for Local Economic Strategies analyzed each institution's top 300 suppliers to understand the socio-geographic structure of their spending. If expenditure "leaked" out of the community it was scrutinized to determine if local firms could meet that need. Results showed that the anchors procured £750 million worth of goods and services a year ($1.23 billion), but only 5% of that spending took place in Preston and only 39% in the broader Lancashire area. In response, The Preston Procurement Practitioners Group was established to allow experts in each institution to co-ordinate social procurement and share good practices.
A local business database helped prepare pre-procurement engagement, and procurement requests were soon broken down into smaller, more manageable contracts. These shifts had local carpenters manufacturing school furniture, new construction sites requiring greater numbers of local workers and apprentices, a local construction company building a new market hall, and the printing contracts of the police force and food contracts of the city council going to local firms. These small interventions increased local expenditure from 5% to 18.2% over five years, putting £70 million ($115 million) back into the Preston economy and £200 million ($327 million) back into the region—a 40% increase.
Preston is continuing other initiatives to spur this economic innovation. A Social Value Procurement Framework is being developed to assess procurement as an economic activity contributing to social objectives. Local firms are encouraged to adopt the idea of "business citizenship," which asks them to consider their contribution to the local economy as well as their social and environmental impacts. Lancashire's pension funds are also being used to finance local development projects. Anchor institutions are discussing an Anchor Jobs Strategy to cultivate a worker co-operative network. These efforts have contributed to Preston being named the best city to live and work in North West England.
Lessons and parting thoughts
For aspiring urban leaders and policy-makers, there are simple lessons for duplicating this strategy of local development through collaboration and social procurement.
A leading institution must co-ordinate a partnership between anchor institutions to address the social and spatial disadvantages faced in the communities they are connected to. Once commitment has been established, a research institution should map the newly opened supply chain data of the anchor institutions to identify procurement expenditure. This review should consider the leakageof inefficient, corporate, low-social-impact or non-local expenditure and assess whether local firms could capture this influenceable spending.
This data should be leveraged to encourage the anchor institutions to shift their expenditures toward local or social enterprises so that public wealth flows back through the community. The Institute for Local Self-Reliance highlights how local businesses recirculate a greater share of every dollar in the local economy. This shift should be attached to improving key social indicators and be continually monitored both to assess progress but also to continue building on behavioural change by the institutions, local firms, and the staff involved in procurement and human resources.  
The problem of embedding increasingly stateless capital to a place with incumbent responsibilities and obligations is a massive policy undertaking. However, the success of social procurement is a reminder to policy-makers that there remains immense wealth in existing public institutions that can be re-invested for the social good. It may require re-examining existing economic arrangements, but if the inclusive growth policy agenda is going to truly reconcile economic policy with social gain, economic orthodoxy will need to be revisited.
***
Declan Ingham is completing a master's degree in public policy at the University of Toronto. His research focuses on building a workers-first economy and a welfare state that leaves no one behind. The author gives thanks to the work done by Democracy Collaborative's Walter Wright, Kathryn W. Hexter and Nick Downer for their report, Cleveland's Greater University Circle Initiative, the Centre for Local Economic Strategies' Matthew John and Neil McInroy for their report, Community Wealth Building Through Anchor Institutions, and The Next System Project's piece on the Preston Model by Clifford Singer.