Our Schools Our Selves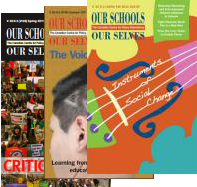 Our Schools / Our Selves is the CCPA's journal on education. It is a lively forum for debates and discussion on a number of topics such as Aboriginal education, anti-racism classroom programs, sex education, peace studies, commercialism, environmental education, child care, and authentic classroom assessment.
For the first time, this winter we are making Our Schools / Our Selves available in its entirety online. You can click through below to access the whole issue, or to download individual articles.
Previous editions of Our School / Our Selves have a selection of articles available online (see individual issues for preview articles).