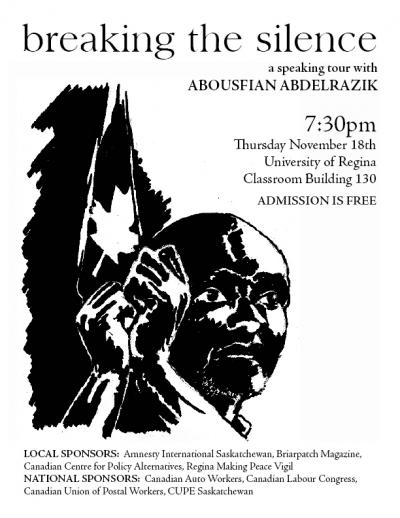 ==================================
Please join us on November 18th for the Regina leg of Abousfian Abdelrazik's Western Canada speaking tour.
Abousfian Abdelrazik was arrested while on a visit to Sudan in 2003. The Federal Court of Canada later concluded that this arrest likely took place at the request of Canada's spy agency, CSIS. Though never charged, Abdelrazik was beaten, threatened and tortured during two periods of detention totaling a year and a half, in which he was repeatedly questioned by CSIS agents. Blocked from returning to his home in Montreal, Abdelrazik went public with his story and took refuge in the Canadian Embassy in Khartoum, where he remained a virtual prisoner for 14 months. Finally, a groundswell of public support from across Canada and a Federal Court ruling forced the government to bring him home.
While it is now over sixteen months since Abdelrazik returned to Canada, his life remains in limbo. Not only have Canadian officials failed to take responsibility for the central role they played in his wrongful imprisonment, torture and exile in Sudan, they have failed to challenge his placement on the UN Security Council's notoriously unjust "1267 list." Not only a no-fly list, the 1267 list also imposes a complete asset freeze on listed individuals and organizations. Listed individuals have no right to a hearing prior to being listed, and they are given no evidence to support the vague allegations behind their inclusion on the 1267 list. Canadian legislation implementing the 1267 regime forbids anyone from giving Abdelrazik any financial aid, including gifts, loans, or even a salary. Thus, although Mr. Abdelrazik has never been charged with any crime, he lives in a virtual prison.
Abousfian Abdelrazik, like a growing number of others, has been subjected to violations of his rights in the name of our "national security." The 1267 list and similar tools rely on guilt by association and racial profiling, casting a shadow over entire communities. Domestically, such policies trample on the fundamental rights and dignities of migrants, marginalize targeted communities, create fear and silence debate; internationally, they justify extreme violence and delegitimize resistance.
Project Fly Home is embarking on a new speaking tour with Mr. Abdelrazik, which will bring him to five western cities, including Stephen Harper's home town of Calgary. On this speaking tour, Project Fly Home will be seeking the support of others to put pressure on the government to immediately lift the sanctions on Mr. Abdelrazik, to ask all Security Council members to support the delisting of Mr. Abdelrazik, and to withdraw from the unjust and unconstitutional 1267 sanctions regime.
For more information, see: www.peoplescommission.org/en/abdelrazik
National Sponsors:
Canadian Labour Congress (CLC)
Candian Union of Public Employees (CUPE) Saskatchewan
Canadian Union of Postal Workers (CUPW)
Canadian Auto Workers (CAW)
Local Sponsors: 
Regina Making Peace Vigil
Amnesty International Saskatchewan
Canadian Centre for Policy Alternatives - Saskatchewan
Briarpatch Magazine