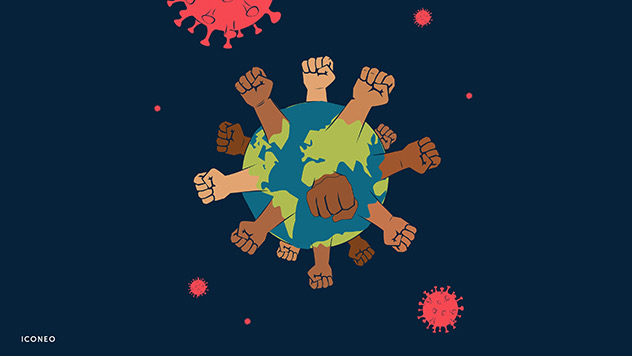 Looking for resources for workers and renters affected by COVID-19? Click here.
The combination of the COVID-19 pandemic, a sharp drop in the price of oil and a global stock market crash has the potential to seriously destabilize the Canadian workforce in 2020, and will strain Canada's public health and social security systems in the short to medium terms. 
At no other time in recent memory has it been so important for all orders of government to respond boldly and with the needs of everyone foremost in mind. Social solidarity, the primacy of collective care, and non-partisan co-operation must guide our actions in the weeks and months to come.
This page will be updated regularly with new analysis on the COVID-19 emergency and proposals for how our governments should respond from CCPA experts and our allies across the country. 
REPORTS
The Rent is Due Soon: Financial Insecurity and COVID-19, March 23, 2020 | Ricardo Tranjan, CCPA-Ontario
This report examines the financial situation of the 3.4 million households who rent and whose primary source of income is wages and salaries or self-employment income. It asks: How many weeks or months can renters go without employment income before running out of savings? The short answer is that almost half of renters have less than a month's worth of savings; one-third have two weeks or less.
Canadian workforce unevenly protected from COVID-19, March 16, 2020 | David Macdonald, CCPA National
To stay ahead of the COVID-19 crisis, Canada's income support systems need to be made more resilient and responsive to the needs of workers who are either quarantined or whose industries are heavily impacted. This paper examines how well protected Canadian workers are now and what else should be done to better insulate them from these risks.
BLOGS
Which unemployed Canadians will get support?, April 2, 2020 | David Macdonald, CCPA National
Unemployment may hit 70-year high, but new EI replacement will help, March 26, 2020 | David Macdonald, CCPA National
COVID-19: Les idées fixes du nationalism conservateur, 26 mars 2020 | Philippe Hurteau, IRIS
Le gouvernement doit embaucher 250 000 personnes maintenant, 25 mars 2020 | Guillaume Hebert, IRIS
Vers un taux de chômage de 32% en Avril? 24 mars 2020 | Julia Posca, IRIS
The prison as petri dish, March 23, 2020 | Anthony N. Morgan, The Monitor
Governments should support oil sand workers, not companies, March 23, 2020 | Ian Hussey, Parkland Institute
Protecting Manitoba workers key to public health, March 20, 2020 | Ellen Smirl, CCPA-Manitoba
COVID-19 crisis must address gender faultlines, March 20, 2020 | Katherine Scott, CCPA National
Some of our most vulnerable jobs are the most valuable in a crisis, March 20, 2020 | Jim Stanford, Centre for Future Work
Bold action in an extraordinary time, March 19, 2020 | CCPA-BC
La santé publique, la COVID-19 et le capitalism, 19 mars 2020 | Anne Plourde, IRIS
What should be next for B.C. workers and families after the initial federal COVID-19 package?, March 19, 2020 | Iglika Ivanova, CCPA-BC
Federal support package: the pros, the cons, and the next shoe to drop, March 19, 2020 | Jim Stanford, Centre for Future Work
COVID-19: Nurses need support from next week's Ontario budget statement, March 19, 2020 | Simran Dhunna and Sheila Block, CCPA-Ontario
What to make of the federal COVID-19 aid package, March 18, 2020 | David Maconald, CCPA National
COVID 19: City of Winnipeg should postpone budget and stop cuts, March 17, 2020 | CCPA-Manitoba and the Social Planning Council of Winnipeg
AFB2020 as COVID-19 policy response: A plan to protect workers and the public from an unprecedented crisis, March 17, 2020 | CCPA National
Le retour à la normal n'est pas une option, 17 mars 2020 | Guillaume Hébert, IRIS
COVID-19 exposes huge cracks in Nova Scotia's labour protections, March 17, 2020 | Rebecca Casey, Acadia University
Economic Response to COVID-19 Pandemic: Go Big, Go Fast, March 14, 2020 | Jim Stanford, Centre for Future Work
Lessons from COVID-19: We are only as strong as our weakest link, March 10, 2020 | Trish Hennessy, Upstream
Protecting workers is key to protecting public health, March 9, 2020 | Jim Stanford, Centre for Future Work